– Burlington Roofing Services –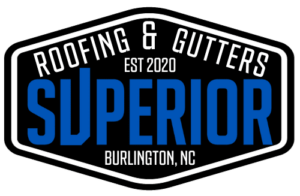 Are you looking for top-tier roofing and gutter solutions in Burlington, NC? If you're searching for reliable, high-quality, and expert services, then Superior Roofing and Gutters is your ultimate destination. Below, we answer some of the top questions asked by homeowners. If your question is not answered below, feel free to reach out to our team to get further assistance!
1. What are the signs that my roof needs repair or replacement?
If you're noticing leaks, missing shingles, or visible water damage inside your home, it's time to consider roof repair or replacement. At Superior Roofing and Gutters, we offer a free roof inspection to assess the condition of your roof and provide you with a detailed report on its health. Our experienced team will help you make an informed decision on whether your roof needs repairs or a complete replacement. From missing shingles to water stains on the ceiling, several signs indicate your roof needs attention. Our experienced team conducts thorough inspections to assess the condition of your roof, checking for signs of damage or wear.
2. How do I choose the right roofing material for my home?
Selecting the right roofing material is essential for the longevity and aesthetics of your home. We offer a variety of options, including asphalt shingles, metal roofing, and more. Our experts will help you understand the pros and cons of each material and guide you in choosing the one that suits your budget and preferences.
3. How Often Should Gutters Be Cleaned and Maintained?
Regular gutter maintenance is crucial to prevent water damage and ensure the longevity of your home. Leaves, debris, and dirt can clog gutters, leading to water backup and potential structural issues. Our experts recommend bi-annual gutter cleanings, particularly in the fall and spring, to keep them in optimal condition and prevent costly repairs.
Gutters are often overlooked, but they play a crucial role in protecting your home's foundation and preventing water damage. Regular gutter maintenance is vital to ensure they remain clog-free and effectively direct water away from your property. At SRG, we offer gutter cleaning and maintenance services to keep your home safe from water-related issues.
5. How can I prepare my roof for harsh weather conditions in Burlington, NC?
From heavy rain to intense heat and occasional snowfall, we experience a range of weather conditions. To prepare your roof for these conditions, we recommend regular inspections and maintenance. Our team can assess the condition of your roof, make necessary repairs, and provide additional protective measures to enhance its durability.
6. Do You Offer Emergency Roofing Services?
We understand that emergencies can happen at any time. Whether it's storm damage or sudden leaks, our team is available to provide immediate assistance. You can count on us for prompt and reliable emergency roofing services, ensuring the safety and security of your home.
7. What makes Superior Roofing and Gutters the top choice in Burlington, NC?
We have earned our reputation as one of the top roofing companies in the area, by providing quality craftsmanship, excellent customer service, and competitive pricing. We are fully licensed and insured, with a team of experienced professionals who are dedicated to ensuring your satisfaction.
8. What Sets Us Apart from Other Companies?
At Superior Roofing and Gutters, we take pride in our commitment to excellence. Our team comprises skilled professionals with extensive experience in roofing and gutter services. We use high-quality materials and employ the latest techniques to ensure durable and long-lasting results. Customer satisfaction is our priority, and we strive to exceed expectations on every project.
Superior Roofing and Gutters is your go-to solution for all your roofing and gutter needs. Whether you require roof repair, replacement, or gutter maintenance, our team is here to provide you with top-notch services and expert guidance. Don't wait until problems become extensive; contact us for a free roof inspection or consultation and let us help you protect your home from the elements. We're committed to ensuring that your property remains safe, secure, and beautiful for years to come. Choose Superior Roofing and Gutters as your partner in home protection.